Zhao Mausoleum is also called the North Mausoleum, the tomb of the second emperor in Qing dynasty, Abahai , and his empress. The Zhao Mausoleum has a history of 350 years, and the construction began in 1643 and ended in 1651. The Zhao Mausoleum combines both Manchu and Han architectural characteristics. It's located in the Beiling Park and it is a UNSCEO World Heritage Site.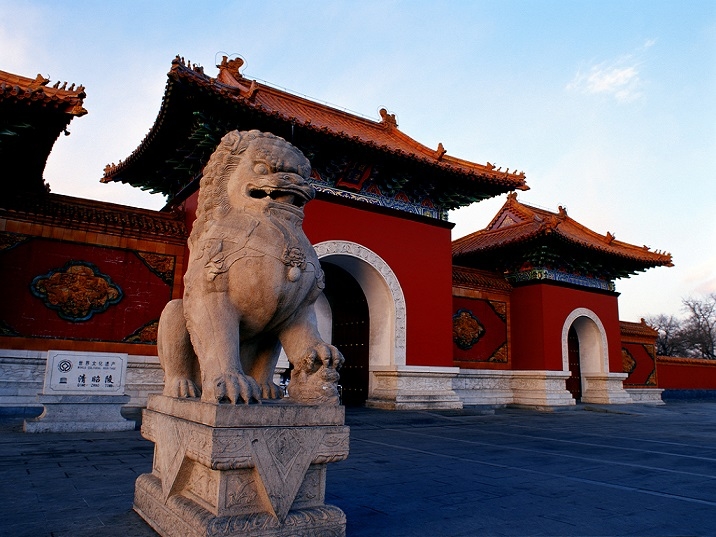 The mausoleum covers an area of 4.5 million square meters. The layout of Zhao Mausoleum can be divided into three parts from south to north: the Horse Dismounting Tablet, the Red Gate and the Square City. Besides, the first two parts are used for worship and festivities and the third part is the place where the emperor and his queen rested.
The site has been listed in the second group of Key Cultural Relics Units under Protection by the State Council in March, 1982. In ancient time, the area surrounding Zhao Mausoleum was a forbidden land for the ordinary people. Only a few chosen ones had the privilege to enter this area where reserved for imperial only. However, this secluded area was opened to the public in 1928, and now constitutes Shenyang's Beiling Park.
The main structure of Zhao Mausoleum is made of the Square City, the Crescent City, the Ming Pavilion and the Treasure Top. Besides, the Longen Hall in Square City is the most amazing building with gold ores covering its floor, radiating in the bright sunlight. The Ming Pavilion is the tallest building in the park. Moreover, the Underground Palace, just under the Treasure Top, is the actual tomb of the emperor and his empress.
Furthermore, there are more than 2,000 pine trees in Zhao Mausoleum, each of them stretching for miles. Astonishingly, most of these trees had a history of more than 300 years.
Location: No.12, Taishan Road, Huanggu District (In the center of Beiling Park, about 1 km from the S entrance of the Park).
Ticket: April to October 60 RMB; other months 30 RMB.
Opening hours: Summer 8:30—18:00; winter 9:00—17:30