Located about 16km southwest of Datong, in the valley of the Shili River at the base of the Wuzhou Mountain, the Yungang Grottoes are an outstanding example of the Chinese stone carvings from the 5th and 6th centuries, and were acclaimed as a UNESCO World Heritage Site in 2001.
Yungang Grottoes is considered by UNESCO as a "masterpiece of early Chinese Buddhist cave art", which represents the successful fusion of Buddhist religious symbolic art from south and central Asia with Chinese cultural traditions.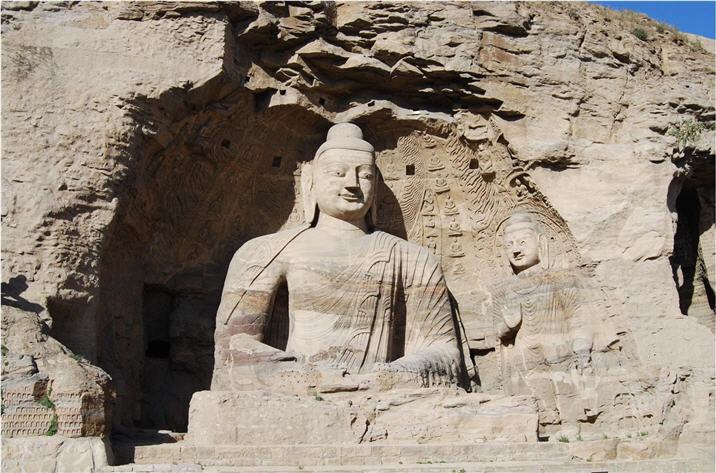 As a relic of the Northern Wei Dynasty, Yungang Grottoes took in Indian Gandhara Buddhist art and developed traditional Chinese melded with social features of the time. The tourism of Yungang Grottoes is divided into three parts: eastern, central and western portions.
For the eastern portion, grottoes numbered #1 through #4 ("#" is an unit dividing different section of the grottoes site) are generally called the "tower" caves due to the carved tower or pagoda in the middle of each, and #1 and #2 are best preserved. In the center of each is a square tower and covering it as well as all four walls are carved stories of the Buddha in various structures.
Numbered #5 to #20 of the central portion of grottoes are situated in the central region of the precipice of Wuzhou Mountain, which were the earliest part of the grottoes to be carved and they are of the highest value. Particularly notable for their Buddhist carvings, the five grottoes numbered #16 to #20 were supervised by the high priest under the Northern Wei Emperor Wencheng and are considered to be the most resplendent of all. The central seated Buddha in #5, with a height of seventeen meters, is the tallest of any statue at the Yungang Grottoes. In the #6 grotto stands a 16-meter-high stupa, carved with Buddha statues on all sides.
Currently western portion are Number #21 to #53. Compared with these of eastern and central part, the grottoes here enjoy more advanced techniques and various styles.
Address: Mt Wuzhou, Datong
Opening Hours: from Apr 15 to Oct 27: 8:30-17:20
from Oct 28 to Apr 4 (next year): 8:30-17:00
Ticket Price: 150 Yuan
Recommended visit time: 2 hours
Transportation:
If you go by taxi the fare is about 40 – 50 Yuan, and takes 40 minutes on the way.
You could also take bus Line 4 outside of the Datong Railway Station and get off at Xinkaili, then take bus Line 3 to the Yungang Grottoes.