The Huayan Temple complex built in Liao Dynasty (907 - 1125) is located in Daxi Street on the southwestern side of Datong City, Shanxi Province. The temple was divided into two parts - the Upper Huayan Temple and the Lower Huayan Temple. The temple was renovated and enlarged for several times during the middle period of the Ming Dynasty (1368 - 1644), and finally became its present appearance.
Emperors in the Liao Dynasty sincerely believed in Buddhism, so they built many monasteries. The Huayan Temple was originally the ancestral temple of the imperial family, offering sacrifices for emperors of the Liao Dynasty. Until now, it is the largest and best preserved one in China.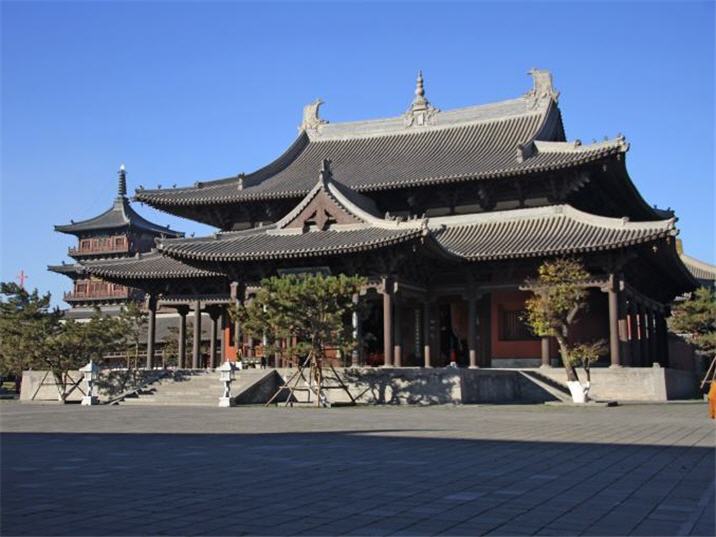 The Upper Huayan Temple is referred to the Upper Hall which houses five Buddha built in Ming Dynasty. The Lower Huayan Temple is referred to the Lower Hall containing a library of more than 18,000 volumes of Buddhist classics. Different to most temples which face south, the Huayan Temple was built to face east since Khitan People were sun-worship, and the sun rises from the east.
Now, the upper and lower monasteries are connected together, but each has a main hall. The main hall of the upper monastery is the Hall of Sakyamuni. It was initially built during the Liao Dynasty and renovated during the Jin Dynasty (1115 - 1234). In the middle of the hall, there are five sculptures standing in a row at the bottom of a lotus flower. There are many color paintings on the wall depicting the stories of Buddha. The total area of the well-preserved color frescos is as large as 890 square meters (about 0.2 acres), which is rarely seen in China. On the top of the hall are color paintings painted from the Ming Dynasty and Qing Dynasty (1644 - 1911), which are portray dragons, cranes, flowers, all of which are images often found in Chinese legends on Buddhism.
The Lower Monastery is relatively small and simple. Its main hall is the Bhagavad Sutra Hall in which the renowned sutra is well kept. The wooden library containing the Buddhist scriptures is exquisitely and elaborately designed. There are thirty-one sculptures in the hall. Among them, a Bodhisattva with a prayer pose is the most famous.
Address: Daxi Street, Datong
Opening Hours: Summer:8:00-18:00; Winter: 8:30-17:30 
Ticket Price: 80 Yuan
Recommended visit time: 2 hours
Transportation: You could take bus Line 4 to the Huayan Temple