Located in Yingxian County, about 70 km south of Datong, the Wooden Pagoda is the oldest and highest wooden structure in China and is regarded as the "First Pagoda in the World". Listed as a historical relic unit under the protection of the country, the Wooden Pagoda was built in the year of 1056 during Liao Dynasty and now adds greatly to Datong's already impressive to go list.
The octagonal pagoda is about 70 meters (230 feet) high and appears to consist of six stories. However, the interior of the pagoda has three hidden floors so in total it has nine stories. On each storey of the pagoda, twenty-four pillars in the outer circle support the octagonal eaves and another eight pillars further inside surround the interior body of the pagoda.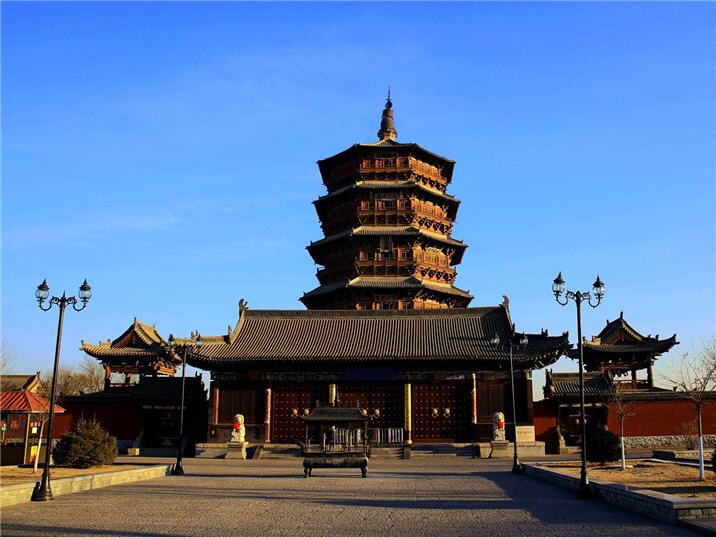 The construction of this well-proportioned pagoda used 3,000 cubes of wood at the weight of over 2,600 tons, and with no dowels or nails having being used. This presents the high development in traditional Chinese wooden architecture of that period.
Two gates built into the base of the pagoda are the main entrance for tourists. A flight of wood cockle stairs inside the pagoda allow tourist to ascend the top. On each floor, there enshrined valued Buddhist statues, among which a 10-meter-high (32.8 feet) Sakyamuni statue on the first floor is very impressive.
In addition, a collection of precious relics found in the pagoda, including the color-printings from the Liao (916 - 1125) period, Buddhist scripts and other items are of high value in the research of the political, economic and cultural development in that period.
Address: 76 km south to the Datong City
Opening Hours: Apr 20 to Oct 10: 7:30-19:00,
Oct 11 to Apr 19 (next year): 8:00-17:30
Ticket Price: 60 Yuan
Recommended visit time: 0.5-1 hour
Transportation: You could take a bus to Yingxian County from Datong South Bus Station and then take a taxi to the Wooden Pagoda.