Odd as its name, the 1,400-year-old monastery does not merely defy gravity but laws of religion. Instead of an exclusive devotion to a single religion, the Hanging Temple is outstanding not because of its particular construction on a sheer precipice but also, maybe more important, it as homage to various religions, including Taoism, Confucianism and Buddhism.
Located 65 km away from Datong City, the Hanging Monastery is a temple built into a cliff (75 m above the ground) near Mt Hengshan. Along with the Yungang Grottoes, the Hanging Temple is one of the main tourist attractions and historical sites in the Datong area.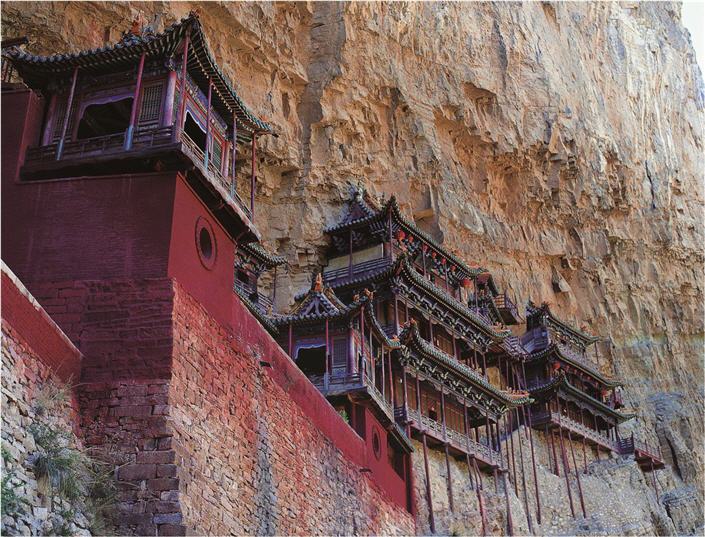 The Hanging Temple was designed skillfully and constructed audaciously. The method is to chisel a horizontal hole in the cliff, and then put a beam through the hole out of the cliff, at last put board and pillars on the beam to build various beam frames and roofs.
The temple was arranged in random from north to south, with a bluff inside and devious plank roads built along the face of the cliff. Beam frames are harmonious up and down, and balusters are connected to each other, with appropriate density, like one integrated mass. Seen from the buildings, it looks as if facing an abyss; seen from the bottom of the valley, the cliff is lofty like a rainbow; seen from the opposite side over the valley; it looks like a young flying phoenix on the cliff.
Address: Mt Hengshan, Datong
Opening Hours: Summer: 8:00-18:00
Winter: 8:30-17:30
Ticket Price: 130 Yuan
Recommended visit time: 2 hours
Transportation: You could take a bus to Hunyuan County from Datong Railway Station (about 30 yuan, 2 hours) and then take a taxi to the Hanging Temple (15 minutes). Or you could take a bus to Lingqiu County, and get off at the Hanging Temple station.