The Orange Island, surrounded by water, sits in the center of Xiang River opposite to Changsha City, and is the largest inland island in the world, which is 6 kilometers (3.7 miles) long and 0.5 kilometers (0.3 miles) wide. The Orange Island is a place with a long history and owns quantities of beauties since old times.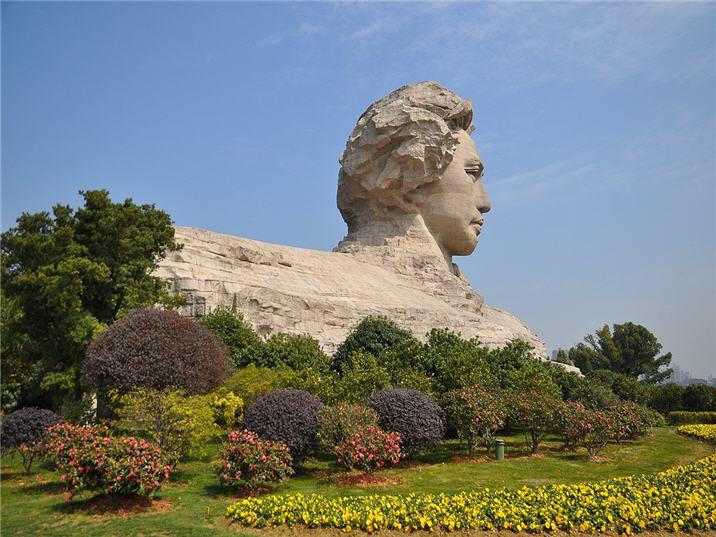 According to the record, Orange Island was silted up by sand and stones in 305 A.D. and was composed of four smaller islands. With time goes by, the four parts were connected and developed into one large island. In 1925, Chairman Mao Zedong, the founder of the People's Republic of China, revisited the place and wrote a famous poem, "Changsha Tune – Spring in a Pleasure Garden", to praise this place and express his willingness to build a new country. In 1960 a park was established on the island and two years later was opened to the public, named Orange Island Park. Since then the park has been improved greatly, attracting more and more visitors to appreciate the scenery and learn the dreams described in Mao Zedong's poem.
The Orange Island can be divided into three parts in general: the head, the middle and the rear. The main attractions on the Orange Island are: the Statue of Chairman Mao Zedong, 100 Meter Fountain, the Fireworks Square and so on. In the head part of the Orange Island sit the River Watching Pavilion, corridors and a huge white-marble memorial monument stately facing Xiangjiang River, which functions as a park, covering an area of 14.2 hectares. The monument are engraved with "the Head of the Orange Island" written by Chairman Mao with the poem on the back of the monument. Thousands of orange trees are planted in the middle of the Orange Island with rich fruits in autumn. In the rear of the Orange Island is a natural swimming pool with clear water and white sands.