Mao Zedong's Former Residence is a famous tourism attraction around China because it was the birthplace and childhood home of Mao Zedong, the main pioneer and the first leader of the People's Republic of China. Mao Zedong's Former Residence has a building area of about 472.92 square meters (5,090.5 sq ft), and buildings embodied include the old houses, the Mao Zedong Memorial Hall, the Bronze Statue of Mao Zedong, and the Dishui Cave.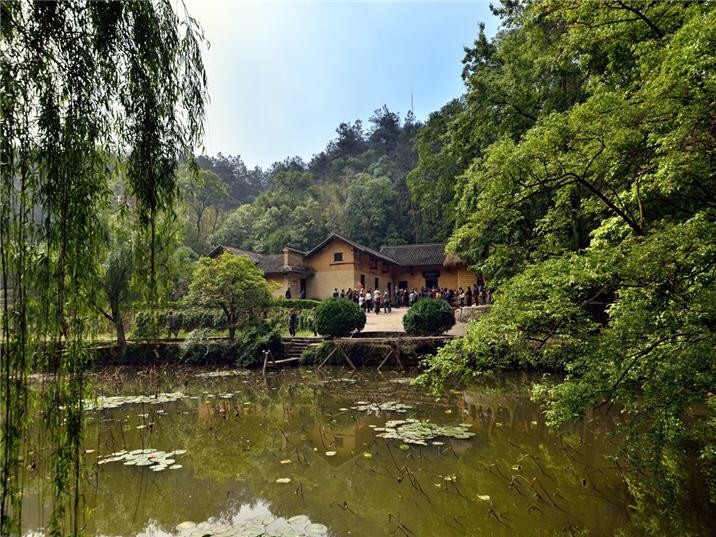 Mao Zedong was born at this place on December 26, 1893. He spent his childhood and boyhood at Mao Zedong's Former Residence. In the fall of 1910 he left this village for study. After he joined the revolution, Mao Zedong returned to Shao Shan five times for revolution, inspecting or visiting his villagers. In 1966, he came here for the last time and spent the time in the Dishui Cave (Dripping Water Cave). This residence was destructed in 1929 by Kuomintang and after 1950 its original appearance was recovered. In April, 1961, Mao Zedong's Former Residence was announced by the State Council as a Key National Historical Reservation Unit. In 1982, its name was changed to Former Residence from Original Residence.
Currently the rooms of Mao Zedong's Former Residence have changed. The original appearance and layouts of the rooms have been stressed through renovation: the bedrooms (Mao, his parents and his two brothers), the living room, kitchen and other rooms. The historical relics include: the furniture in Mao's bedroom and in his parents' bedroom (bed, wardrobe, desks, stools and chairs), the jar and cupboard in the kitchen, stone grinder, man-driven irrigation tools, the harrow in the farm implements room, the rice pestle and man-driven blower for rice in the pestle room.