Mount Yuelu is located on the west bank of Xiangjiang River and lies in the west of Changsha City, Hunan province. The highest point of the main peak of Mount Yuelu is not very high, only about 300 meters. Mount Yuelu is well-known for many scenic spots, including the Qingfeng Gorge, the Aiwan Pavilion, the Yunlu Palace and the Flying Stone.
The Qingfeng Gorge lies in the low area between the Yuelu Academy and the Lushan Temple. It holds the Aiwan Pavilion, one of four famous pavilions in ancient China, the Sheli Tower, and the tombs of Huang Xing (Huang Hsing) and Cai E (Tsai E).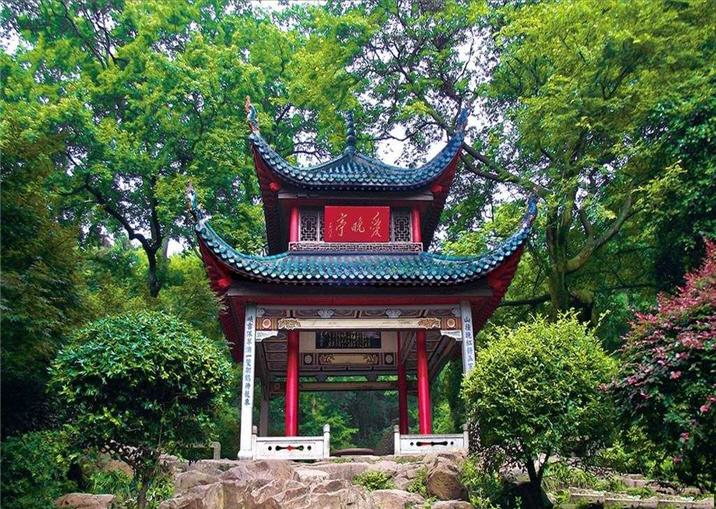 The Aiwan Pavilion and was built in 1792. Its original name is Red Leaf Pavilion, later changed based on a poem by Du Mu, a famous poet in ancient China. Mao Zedong once played and studied here and the remaining tablet was written by Mao Zedong in the 1950s. The Aiwan Pavilion is supported by four red poles. There is a tablet with the poem, "Qinyuanchun, Changsha" written by Mao Zedong. Lushan Temple is located on the side of the mountain. It was built in A.D.268 and later destroyed and rebuilt several times. It was last rebuilt in the 1980s.
The Yunlu Palace is a Taoist place sitting on the south side of Mount Yuelu, whose activities have a long, long history. The Yunlu Palace was built in 1478, and Mount Yuelu has been an active center since then. Because of war the Palace has been rebuilt for several times since then, with the last major done in 1976. The Flying Clock and Flying Stone are also famous attractions in Mount Yuelu. The Flying Clock hangs in a ginkgo tree near Yunlu Palace. Flying Stone lies under the Flying Clock.