Sitting in the north of Luoxiang Street of Qufu City, the Yan Temple is another site to visit when travelling through Qufu to get to know more about Confucius. The Yan Temple can be easily reached by crossing a road from the rear garden of Kong Family Mansion. The Temple is built for Yan Hui who was one of the greatest disciples of the sage. It is said that Yan Hui enjoyed great popularity among people for his virtues. He was conferred an honored title of Fusheng Gong in the Yuan Dynasty (1271-1368), so the Yan Temple is also called Fusheng Temple.
The Yan Temple was built when Liu Bang, the first emperor of the Han Dynasty (206BC-220AD), held a memorial ceremony for the sage and Yan Hui. It was originally located in the northeast corner of Qufu City. In 1594, Yan Temple was rebuilt in style of Ming Dynasty (1368-1644) architecture on the site of Yan Hui's former residence.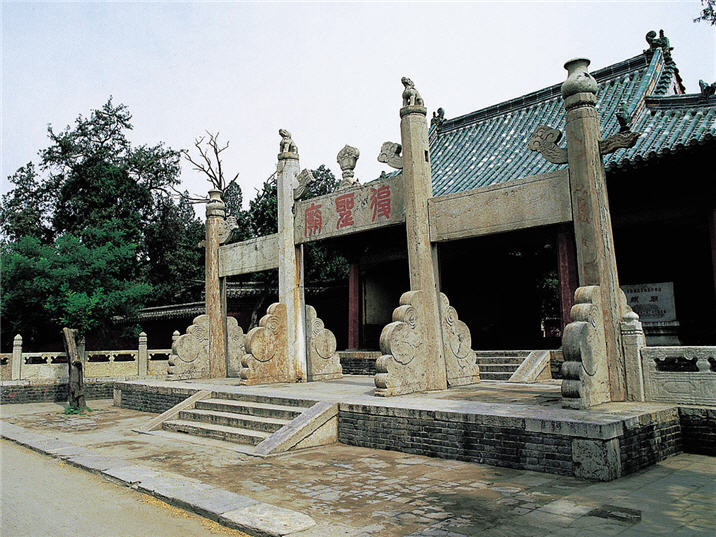 Buildings in the Yan Temple can be divided into east, west and central parts, covering an area of about 36 mu (6 acres). There are five courtyards in total in the temple. In the front of the temple, a tall granite archway takes on a solemn and simple look. The Fusheng Hall is the main hall of the Yan Temple, which honors Yan Hui. The hall is magnificent and imposing with finely carved columns and painted beams. The buildings in the west part worship Yan Lu, Yan's father. An ancient Rough Lane Well in the west of the second courtyard and a Joy Pavilion built in the Song Dynasty (960-1279) are the most famous constructions in the temple. Now the Yan Temple preserves 25 ancient buildings of the Yuan, Ming and Qing Dynasties, 53 steles from the Jin Dynasty (1115-1234) to the Qing Dynasty (1644-1911) and more than 500 ancient trees.