The Kong Family Mansion is the historical living place for the residence of Confucius and his lineal descendents in Qufu, whose structures can mainly date from the Ming and Qing Dynasties. Nowadays, the Kong Family Mansion is utilized as a museum to help tourists know more about Kong family as well as part of the UNESCO World Heritage Site "Temple and Cemetery of Confucius and the Kong Family Mansion in Qufu".
The Kong Family Mansion is located closely to the east of the Temple of Confucius to which it had been formerly connected. The layout of the mansion is traditionally Chinese style and separates official spaces in the style of a Yamen in the front of the complex from the residential quarters in the rear. Besides the Yamen and the inner quarters, the Kong Family Mansion complex also contains an eastern and a western study as well as a back garden. Within this overall arrangement, the spatial distribution of the buildings in the light of seniority, gender, and status of their inhabitants reflects the Confucian principle of order and hierarchy.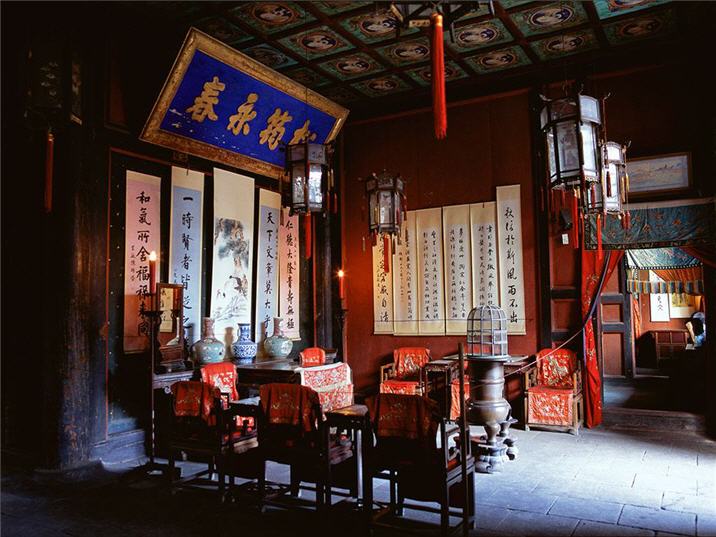 The very first structure of the Kong Family Mansion was built in 1038 during the Song Dynasty. Then it was relocated and rebuilt under orders of the first emperor of the Ming Dynasty in 1377. The complex was expanded into three rows of buildings with 560 rooms and--like the neighboring Confucius Temple--nine courtyards. During the Qing Dynasty, the Kong Family Mansion underwent a complete renovation in 1838, only to be damaged in a fire 48 years later which destroyed the women's quarters in 1886. Despite these later renovations, the Kong Family Mansion remains the best preserved Ming-era residential complex of its size. In addition, there is another Kong Family Mansion in Quzhou built by the southern branch of Confucius descendants.
The Kong Family Mansion boasts luxury furnishings, exquisite decorations, and precious cultural relics. Calligraphies of the emperors, royal poetries, books, royal instruments … almost everything were bestowed to Confucius and his descendants by the emperors of past dynasties in order to show their honors to them. And Confucius' descendants had got into the habit of collecting the ancient relics to enrich the relics collection.