Renowned as one of the four famous ancient bridges in China, the Luoyang Bridge strides over the Luoyang River from south to north in the southern of Quanzhou city. The other three are Lugou Bridge in Beijing, Zhaozhou Bridge in Shijiazhuang and Guangji Bridge in Chaozhou. Luoyang Bridge is China's earliest stone bridge built in Song Dynasty as well as one of the state-level culture heritage protection units.
In ancient times, Luoyang Bridge was called Wan'an Bridge. Wan'an means being perfectly safe in Chinese. Near the bridge was a ferry terminal. When there was bad weather, local people could not be ferried safely to their destination. The locals prayed to cross the river safely so they called the terminal the Wan'an Ferry Terminal, hence the bridge's name Wan'an.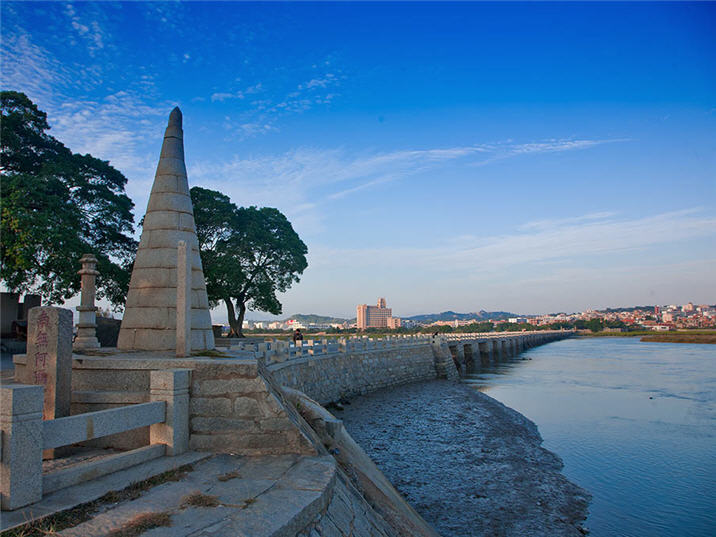 Construction of the Luoyang Bridge started in 1053 and was completed in 1059. The project of building the bridge was led by Cai Xiang, the governor of Quanzhou who was also one of the four famous calligraphers in the Song Dynasty (960-1279). Built with granite, the bridge features ship-like piers and a unique method of reinforcing the foundation. The ship-like piers could easily cut the rapid current in the river. To reinforce the foundation of the bridge, oysters were bred under the bridge because the liquid they secreted would help to bind the piers and the footstones together. This is the first time an organism was used to assist in reinforcing the structure of a bridge anywhere in the world.
The Luoyang Bridge has been renovated many times since its establishment. Currently, the Bridge is about 731 meters (2,398 feet) long, 5 meters (16 feet) wide and 7 meters (22 feet) high. The Zhaohui Memorial Hall sits at the north of the bridge, and it is a place for people to worship the protector of the bridge. And the Cai Xiang Memorial Temple lies at the south of the bridge, which is engraved with the words Wan 'an Bridge written by Cai Xiang.