The Kaiyuan Temple is a famous Buddhist temple, located in West Street, Quanzhou, which is widely acknowledged as one of the oldest temple in Fujian province. The temple was initially built in 686 during the Tang Dynasty. After several restorations, it has become a complete complex of courtyard galleries. The Kaiyuan Temple covers an area of 78,000 square meters with a typical Buddhist style.
Most of the Kaiyuan Temple's architecture reflects typical artistic features of the Tang (618-907), the Song (960-1279), the Yuan (1271-1368), the Ming (1368-1644), and the Qing (1644-1911) Dynasties. Major buildings in Kaiyuan Temple include Tianwang Hall, Daxiong Palace, the Sweet Dew Temple, the Sutra Depository, and Gongde Tang. Two long corridors and two stone towers could date back to the Song Dynasty (960-1279).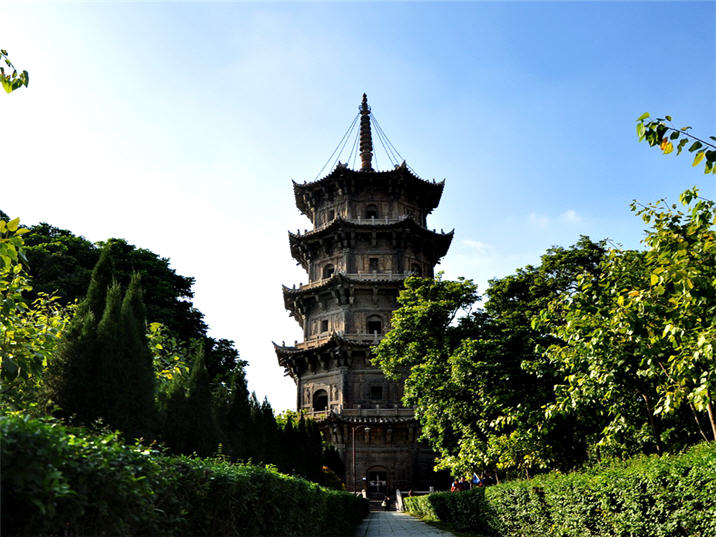 Lying behind Tianwang Hall is Daxiong Palace, the main body of Kaiyuan Temple. It is 66 feet high and covers an area of 1,196 square yards. Inside are 34 figures of the Buddha, 24 statues of angels, and 86 columns. Originally, there were 100 columns in the palace, so Daxiong Palace was also named Baizhu (one hundred poles) Palace. Viewing these works of art, visitors will be surprised at the superb techniques of sculpture. On the base of the palace 172 images of Sphinx are carved in bluestone. In the corridor at the back of the palace, two steles in Brahmanism style are carved with fairy tales from India and Ceylon.
Most of the local people believe in Buddhism, and Kaiyuan Temple is just the concentration of their beliefs. Therefore, it is a must for visitors to visit the Kaiyuan Temple to learn the local culture and get close to the local life.