Don't hesitate to come in Beijing if you are a food lover, you will find it a city that never disappoints you. Here you would taste all kinds of delicacies, but the yummiest foods you shouldn't miss are the Beijing roast duck, traditional snacks, Dumpling, noodle with soybean paste, and instant-boiled mutton (mutton hot pot).
Dumpling
Dumpling (called Jiaozi in Chinese) is a kind of crescent shaped rolled piece of dough filled with meat or vegetables. In some restaurant you'll occasionally find recipes calling for more unusual ingredients such as shrimp and even cucumber. The filling ingredients are enclosed in round dough that are thicker than a wonton wrapper. The dumplings are frequently boiled, although they may also be pan-fried. Dumplings are eaten with a soy sauce-based dipping sauce that may include vinegar, garlic, ginger, rice wine, hot sauce, and sesame oil.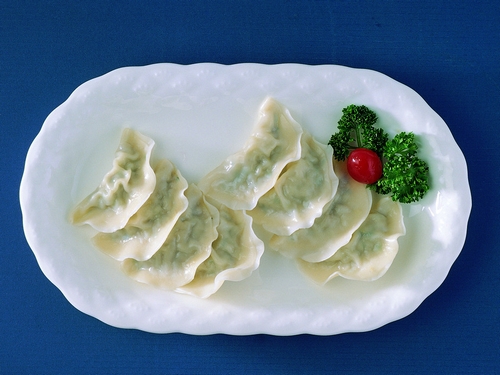 Beijing Roast Duck
Roast Duck enjoys a reputation of China' national dish. Only White Beijing Duck could be chosen to cook roast duck. Beijing Roast Duck is characteristic with crispy skin, tender meat and the fragrance from the fruit-wood. The duck tastes pure and mellow with lotus leaf-shaped cake, scallion slices and sweet sauce jam, leaving a lasting and pleasant aftertaste. Traditionally, the cooked duck will be sliced by the chef in front of the diners. The slicing of the meat from the carcass of the duck is an art in itself. A skilled chef is able to cut between 100 and 120 slices in four or five minutes, each slice with an equal portion of both skin and meat. Normally the remaining meat and bones of the duck may be made into a tasty broth.
Instant-boiled mutton
Instant-boiled mutton is cooked in a steaming brass pot of soup in the center of the table surrounded by platters of thinly sliced meats and vegetables. Mutton hot pot has almost been a cultural symbol of Beijing, especially the large brass pot with a funnel in the middle. After the broth is boiling, you could put the thinly sliced frozen curls of mutton or lamb into the pot and pick up them when the meat after minutes. The mutton is eaten with a sort of do-it-yourself dipping sauce. You can add sesame paste, soy sauce, chili oil, fermented red bean curd and pickled flowering chives as you like.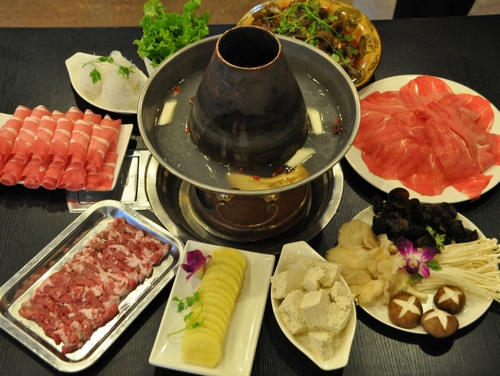 Noodle with Soybean Paste
Noodle with Soybean Paste (called Zhajiangmian in Chinese) is a traditional Beijing cuisine with quite a long history. To cook Zhajiangmian, Beijinger uses hand-made and hand-pulled noodles mixed with fried soybean paste and some cucumber slices, summer radish slices and soybean sprouts. Two pieces of garlic added can make the noodles savory. Noodles with sesame sauce have a distinctive flavor, and definitely you could have a bowl of Zhajiangmian without giving a second thought.
Beijing Snacks
If you are tired of having "big meals", try some traditional Beijing snacks could be a good choice. Among all kinds of snacks, Donkey roll (Lvdagun), Pea Flour Cake (wandouhuang), Aiwowo, Caramel treats, fried ring Sweetened baked wheaten cake, and Beijing dried fruit are most welcomed among tourists.