Archaeologists have made new discoveries regarding the military formation of terracotta warriors during the third excavation of Pit No.1 of the Mausoleum of Emperor Qinshihuang in Xi'an, China.
More than 220 terracotta figures, 16 terracotta horses, four chariots and other cultural relics such as weapons and production tools were discovered during the excavation.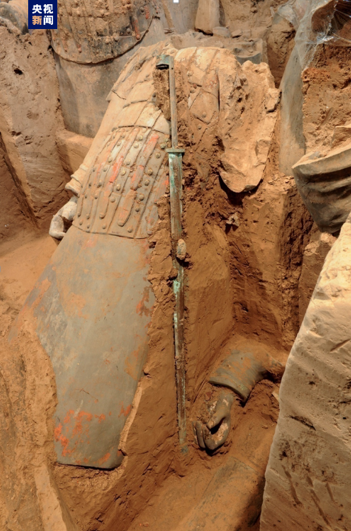 This picture shows the original pose of terracotta warriors wearing bronze swords. (Photo: CGTN)

Pit No.1 is the largest of the burial pits inside the Mausoleum of Emperor Qinshihuang, China's first emperor. The pit is 230 meters long and 62 meters wide, or a total area of 14,260 square meters.
Three excavations have been carried out in the pit. The third excavation was carried out from 2009 to 2022 and covered an area of about 430 square meters.
The third excavation site. (Photo: CGTN)