The Putuo Zongcheng Temple is a Buddhist temple group established in Qing Dynasty, located at the north of the Chengde Mountain Resort. It was built to commemorate Emperor Qianlong's 60th birthday as well as his mother's 80th birthday, and it was established after the Potala Palace of Tibet, which was built by Dalai Lama a hundred years ago. The Putuo Zongcheng Temple is one of the Eight Outer Temples of Chengde, to be specifically, the largest one.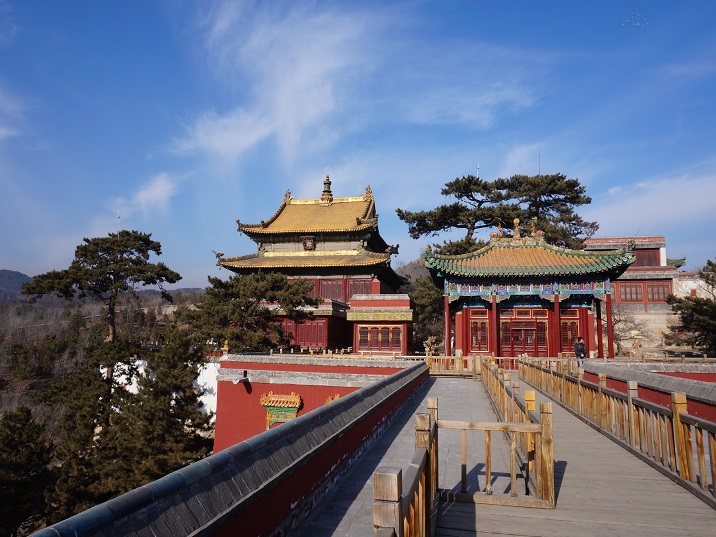 The Putuo Zongcheng Temple complex covers a surface area of some 220,000 square meters (2,400,000 sq ft), making it one of the largest in China. Since it was modeled after the Potala Palace, the Temple represents a fusion of Chinese and Tibetan architectural styles. The Putuo Zongcheng Temple served more functions than just Buddhist ceremony and festival, however. It was also the location that the emperor would gather meetings of different ethnic envoys found throughout the empire. The location served as a peaceful getaway in contrast to the bustling life of the capital Beijing, as well as complimented the nearby hunting grounds that the emperor would enjoy with his hosts.
Although ostensibly modeled on the Potala Palace, the Putuo Zongcheng Temple is a clear hybrid of Tibetan influences and Chinese traditional architecture. For example, the lower portions of the monastery, including the stele pavilion and the surrounding gate houses, are bilaterally symmetrical and arranged around a strict quadrangle. In contrast, the rest of the temple buildings scattered around the hill with the main building sitting on the summit like a crown, which reflects the common practice in Tibetan architecture to use the building to accentuate pre-existing physical features such as ridge lines and summits.