A replica of Beijing's City Gate Yongdingmen, south of Beijing's city axis, is unveiled to the public at Beijing's China Red Sandalwood Museum.

Those beijingers born before the 1950s remember Beijing's walls as the "city's necklace". But most of the greatest pearls of this historical treasure have been destroyed.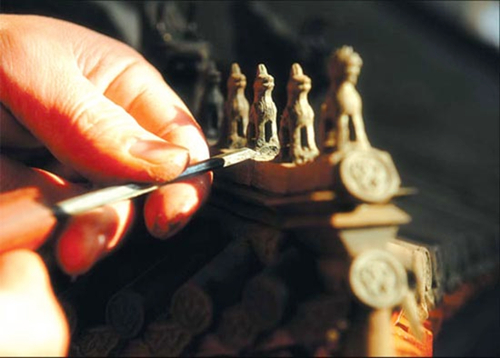 A self-made billionaire is reconstructing the capital's ancient city walls - in miniature and in sandalwood, at a tenth of their original size. Red sandalwood trees require centuries to mature while ebony comes from semi-fossilized wood that has lain at the bottom of the great rivers for thousands of years. Besides, ebony is so similar in color to the gates' grey bricks that no paint is required.

The production team employs about 120 designers, ancient architecture experts and craftspeople. They started work in 2011, and it took them more than a year to produce a maiden model.