Up on the Red Hill in Lhasa, Southwest China's Tibet Autonomous Region, there's a 9-storey palace housing a thousand rooms, the Potala Palace. Recently the 1,300-year-old palace was added to the national 5A scenic spot list by the National Tourism Administration of China, becoming the first highest-level tourist attraction in Tibet.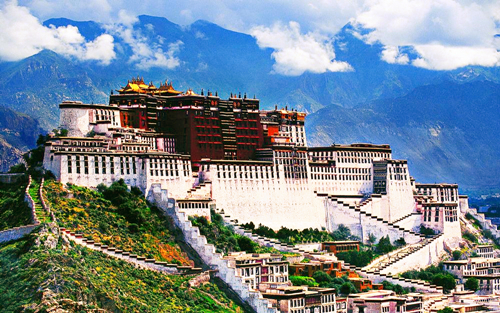 Legend has it that Potala Palace was first built in the seventh century, when the then Tibet King Songtsen Gampo greeted his bride the Tang Dynasty Princess Wen Cheng from the heartland minority. Later the palace was burned to the ground in times of war. It was rebuilt by the fifth Dalai Lama in the 17th century. Repeated repairs and expansions, as well as long-time protection finally brought the structure to its present scale.

It is 360 meters long from the east to the west, 270 meters wide from the south to the north, with an area of 130,000 square meters. The Potala Palace is famous for its grand buildings, complicated constructions, special atmosphere and splendid artworks. It was declared a UNESCO World Heritage Site in 1994.