Palace Museum in Beijing launched a new exhibition, "Imperial Ceramics and Porcelain of the Great Ming (1368-1644): Comparisons of Excavated and Extant Ceramic Pieces from the Hongwu, Yongle, and Xuande Reigns", on June 2. The show continues to September 2.
The exhibition is held in the Hall of Abstinence and Xi Temple. Up to 297 sets of imperial ceramics and porcelain are on display in the show. It is also the first time that the Palace Museum cooperates with the Jingdezhen Research Institute of Ceramic Archaeology to hold joint exhibitions.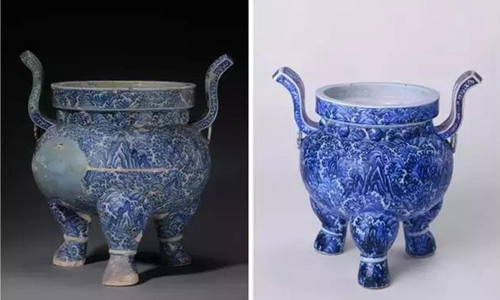 In the Ming and Qing Dynasties, Jingdezhen was the imperial kilns for the emperors. The porcelain produced by Jingdezhen was only allowed to use in the imperial palace for collections or decoration. The qualified ones were sent to the palace while the imperfections were destroyed in a concentrated way.
Enthusiasts can compare the unearthed porcelain from Jingdezhen with the handed-down ones from the Palace Museum. It is a wonder that some pairs of them even have the similar shapes and patterns.