According to a nationwide tax refund policy launched in January, overseas visitors can get a tax refunds across China. After a pilot trial in the Hainan province, the policy has been taken effect from last week throughout the country.
Tourists from foreign countries and three regions (Hong Kong, Macao and Taiwan) will be eligible for a rebate of 11% on commodities bought at certain stores, if visitors stay in mainland China for no more than 183 days.
Designated tax-refund stores are limited as they should meet several criteria and be registered at the State Administration of Taxation. And the minimum purchase to get a tax refund is 500 RMB ($80.6) at any one store in a day. Purchases from private vendors are not eligible no matter how much visitors spend.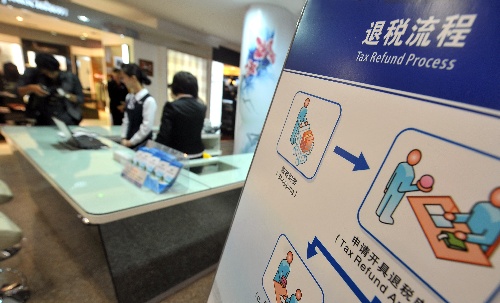 Steps to get tax refunds:
1. After purchasing, ask for the documents necessary for tax refunds immediately.
2. Go to a customs office for verifying and stamping the documents.
3. Apply to designated tax-refund agencies or other related institutions for tax refunds.
4. Tax-refund agencies will then declare the issue to the tax authorities and refund the Value Added Tax within a month.