According to the Ministry of Railways, business-class tickets and premium seats on Beijing-Shanghai high-speed trains will discount from June 27, 2012.
Business-class tickets will be reduced by 10 to 20 percent, while premium seats tickets will be cut by 10 percent.
After the price cut, business-class tickets for the 85 high-speed trains will be lowered to between 1,400 yuan ($222.22) and 1,575 yuan from the current 1,750 yuan. Prices of premium seats will stand at 949 yuan, down from the current 1,055 yuan.
The discounts will vary according to different trains, the time of ticket purchases and the day of departure, according to the statement.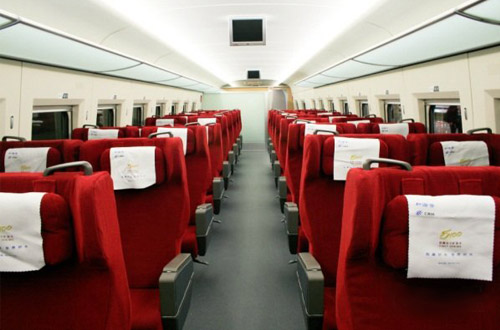 The Beijing-Shanghai High-Speed Railway is a 1,318 kilometers long high-speed railway that connects two major economic zones in China. The line opened to the public for commercial service on June 30, 2011. This rail line is the world's longest high-speed rail line ever constructed in a single phase.