Modern 3D light shows are staged on the historical buildings in front of the Tower of Buddhist Incense at the Summer Palace and China Millennium Monument in Beijing and at the bank of the Huangpu River in Shanghai on Dec. 31, 2012. Thousands of tourists from home and abroad witnessed the New Year countdown on Monday night to welcome the new year.
Summer Palace in Beijing holds a massive ceremony on New Year's Eve with breathtaking performances and a dazzling 60 second countdown ceremony. A series of exciting performances precedes the countdown, and the countdown itself features eye-popping visuals on the surface of the lake. The lights of Beijing are also seen at the China Millennium Monument.
Shanghai's light show featured lights projecting a 3D movie onto the facade of the HSBC Building and Customs House, located in the Bund area, accompanied by aerial performers and a fireworks display.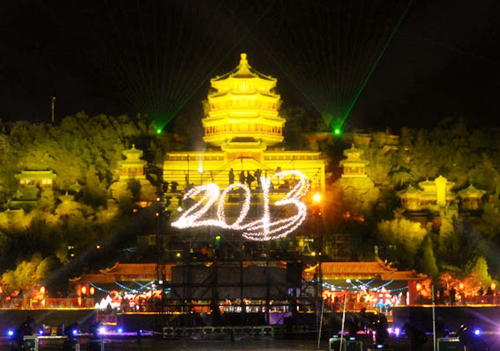 The shows are essential parts of Beijing and Shanghai's New Year carnival, which the metropolis had planned to hold this year along with others in the world including New York, London and Paris.
Chinese people usually mark the New Year on the Gregorian calendar by watching TV galas, while major celebrations are reserved for the Lunar New Year, or Spring Festival, which is usually in late January or February.