On April 11-13 this year, thousands of people participated in the Water Splashing Festival in Dehong Dai and Jingpo Autonomous Prefecture in Yunnan Province.
During the festival the Dai people wore colorful costumes, carried clean water first to wash the Buddha and then splash each other with water. According to the Dai tradition it is a way of washing away the old year and ushering in the new.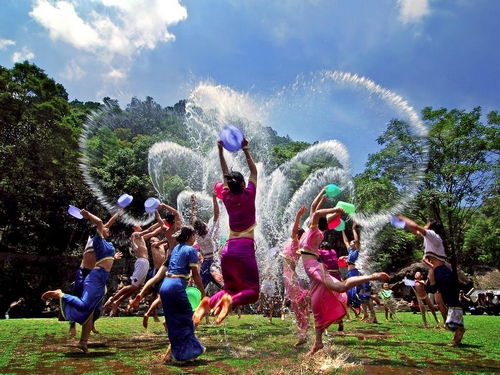 The Water-Splashing Festival is in celebration of the New Year in the Dai calendar, Water Splashing Festival is also known as the festival for bathing the Buddha. Normally it falls in Mid-April and lasts three or four days.
The Water Splashing Festival vividly exhibits the Dai's homage to water. It is also a cultural bridge between Yunnan Dai Nationality and Southeast Asian countries that share the same festive culture of water-splashing.