The Huocheng County in northwest China's Xinjiang Uygur autonomous region held the 5th lavender Tourism Festival on June 13 and June 14. The two-day festival was a prelude to the upcoming blossom season of Yili Valley.
Owning a total area of over 1,300 hectares of lavender, the Huocheng County is nicknamed as the Lavender Town, which produces 97 percent of the country's lavender-related products. The purple lavender field connects to the snow mountain in the distance with intoxicating fragrance.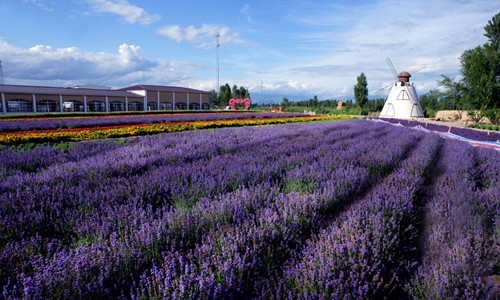 In the festival 12 series of activities were held based on this year's slogan "the scented Huocheng, a journey to romance" . Visitors were invited to enjoy the music festival in the flower field and taste the special food made of lavender. One of the four major lavender gardens was awarded as the "National 4A-Level Scenic Area" in the opening ceremony.
The lavender tourism festival has been regarded as a cultural label of Huocheng County. The lavender field is also the muse of some artists, inspiring their creation.