From this year, pilgrims don't need to cross against red lights which obstructed the road of pilgrimage in Lhasa any more. The government has built many overpasses along the pilgrimage routes to make pilgrims' daily religious practices more convenient, safer, and time-efficient. Besides, during the Saga Dawa month pilgrims can get blood-pressure checks, hot water and tea, medicines including hypotensor and painkillers all for free along the pilgrims' route.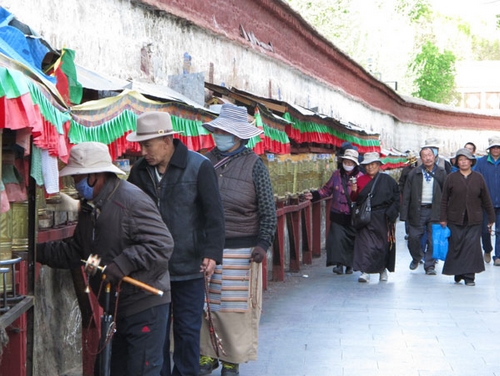 Before the new overpass has been built, major routes for pilgrims in Lhasa were crowded throughout the Saga Dawa Festival in Tibetan calendar each year.
According to religious doctrine of Tibetan Buddhism, the 15th day of the fourth month of Tibetan lunar is the date of Buddha's birth, enlightenment, and nirvana. During that month, pilgrims walk and chant with prayer wheels in their right hands and prayer beads in their left hands along the pilgrims' route.