Twelve vintage buses started service in Beijing, bringing passengers to iconic attractions downtown.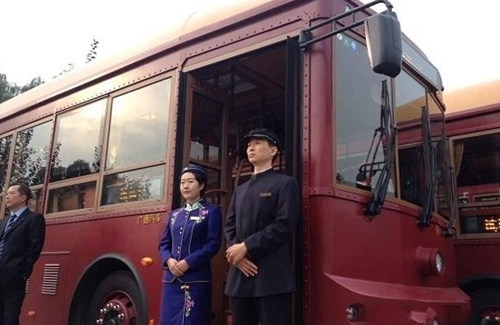 Starting near south Beijing's Yongdingmen gate tower, the 15-kilometer-long bus route stretched northward along the city's axis line, passing more than 20 scenic spots including the Temple of Heaven, the Tian'anmen Square, Forbidden City, among others.
The buses run between 8 a.m. and 5 p.m., costing 10 yuan (about 1.6 U.S. dollars) for single journey, and 15 yuan (about 2.4 U.S. dollars) for day trip.
Drivers are dressed in the Chinese Sun Yat-sen style uniform so as to give passengers a sense of nostalgia, while conductors are in blue overshirts which were embroidered with peony.
Despite their antique appearance, the buses are powered with electricity and equipped with WiFi and air purification facilities.