A new route of vintage trolley sightseeing was put into use on March 18, after Beijing introduced the vintage vehicles last year to carry tourists through iconic downtown attractions.
This 10-kilometer bus route starts at Qianmen and will return to the departure station after 15 stops, which takes about 45 minutes. It stops at hot attractions in Beijing including Qianmen, Tian'anmen Square, the Palace Museum, Beihai Park, and Wangfujing Street. Passengers on each trolley will be accompanied by a tour guide, introducing scenic spots and historical sites in both Chinese and English.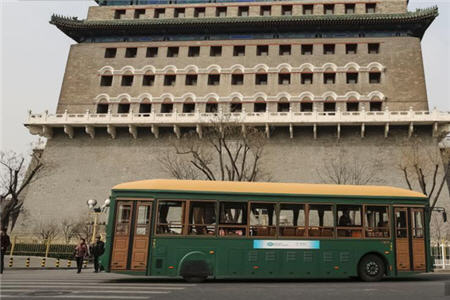 It costs a single fare of CNY 15 (USD 2.40) by cash, or CNY 10 by transportation IC card. The buses are scheduled for every five to 10 minutes.
The first vintage trolley route starts near south Beijing's Yongdingmen Gate, passing more than 20 scenic spots, including the Temple of Heaven and Tian'anmen Square, and forms a circle along the axis of Beijing.
Painted in bright colors, the buses are replicas of those used in Beijing from 1924 to 1966. At that time, trolley drivers had to ring copper bells as horns to alert pedestrians, and people started to call the vehicles "Dangdang" because of the sound the bells made.