Tie-dyeing is a traditional textile dyeing technique in the Southwest China, which is done by the ethnic people in Yunnan and Guizhou Province. This method appeared in the 3rd to 4th century in China and is still used today.
The craft of tie-dyeing is a precious legacy in Zhoucheng Village in Dali Bai Autonomous Prefecture, Yunnan. Its population is only about 10,000 and there are more than 6,000 people employed in the tie-dyeing business. Due to its fine workmanship, Zhoucheng has become the main producing place of the tie-dyed cloth, known as 'the Land for National Tie-dye.'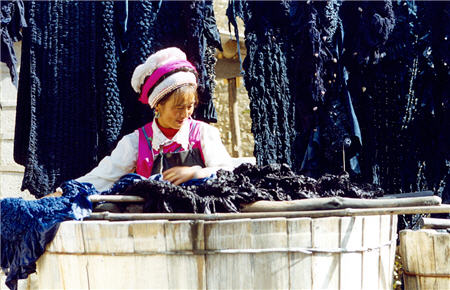 The tie-dyed materials are usually are white cotton cloth or a blended fabric of cotton and flax, and the dye is mainly made from indigo plants. The main tools used are jars and sticks. The procedures include designing, painting, tying with thread, diping-dyeing, removing thread, poaching and trimming.
The concept behind tie-dyeing is to restrict the dye from reaching certain areas of the cloth; this is achieved through the use of knots, threads, rocks, sticks and rubber bands. The color of the parts the dye reaches changes but the restricted parts stay untouched, giving a pleasant color contrast.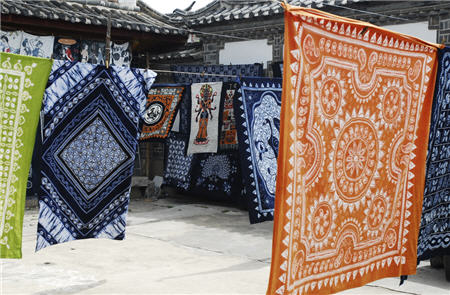 To make the dye, woad leaves are collected and fermented in a pit until they are indigo in color. White cloth is tied and sewn into various patterns by hand and then dyed. There are many kinds of Bai tie-dyed items, using natural patterns with lucky meanings. After the cloth is dried and rinsed, designs of bees, butterflies, plum blossoms, fish, or insects appear with an artistic effect that cannot be achieved by painting.