The Hangzhou Asian Games, which was scheduled to take place from 10-25 September 2022 in the capital of Zhejiang province, has been postponed to 23 September - 8 October 2023 due to COVID-19. The event is second in size only to the Summer Olympics. Hangzhou will be the third Chinese city to host the Asian Games, after Beijing in 1990 and Guangzhou in 2010.
Slogan
The official slogan of the 2022 Asian Games, "Heart to Heart, @Future" , is intended to reflect the power of the digital age to connect people from all the world through the Asian Games.
Mascot
The three mascots of the Games, Congcong, Lianlian and Chenchen, are known collectively as the "Memories of Jiangnan". They are depicted as robotic superheroes originating from the Archaeological Ruins of Liangzhu City, the West Lake and the Grand Canal respectively, proclaiming the host city's profound heritage and contemporary vibrancy.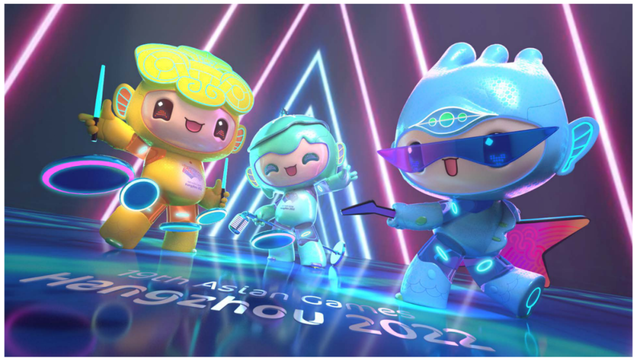 Emblem
The emblem of the Games, "Surging Tides", was designed by Professor Yuan Youmin from the China Academy of Art. It is made up of six parts: a Chinese fan, the Qiantang River, a tidal bore, a running track, the Internet icon and the glowing red sun of the Olympic Council of Asia (OCA). The emblem means "the great cause of socialism with Chinese characteristics gathering momentum in the new era", and "the unity, solidarity and development of the OCA."
Venues
Most venues for the Games will be in Hangzhou, while some events will be held in Deqing, Jinhua, Ningbo, Shaoxing and Wenzhou. All 56 competition venues and 31 training venues for the Asian Games in Hangzhou are gradually opening to the public, and over 42,000 citizens have accessed these venues for physical exercise since 1 July 2022.
Sports
There are 40 sports including swimming, archery, athletics, badminton, baseball and softball, basketball, boxing, etc., and 61 disciplines at Asian Games Hangzhou 2022. During 15 competition days, athletes will compete for 482 gold medals.