Spring couplets, pasted on the Spring Festival on each side of the door and propitious words across the lintel at the top are used to express the feeling of life's renewal and the return of spring and to convey people's wishes for peace, fortune and good luck in the coming new year.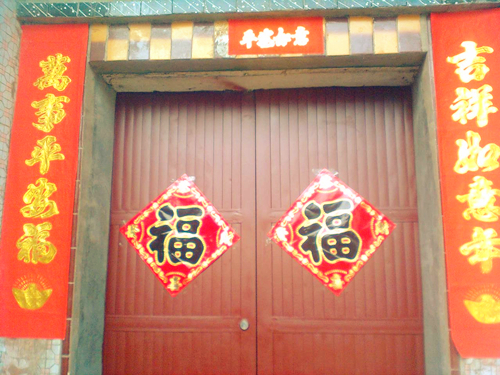 Writing the couplets was in fact a kind of competition in folk wisdom and calligraphy attended by every family. Before the Spring Festival arrives, Chinese people will paste all their door panels with the couplets, highlighting Chinese calligraphy with poetic couplets of calligraphy written with fragrant India ink, expressing the feeling of life's renewal and the return of spring. Chinese have always preferred the color red, as it stands for passion and good fortune.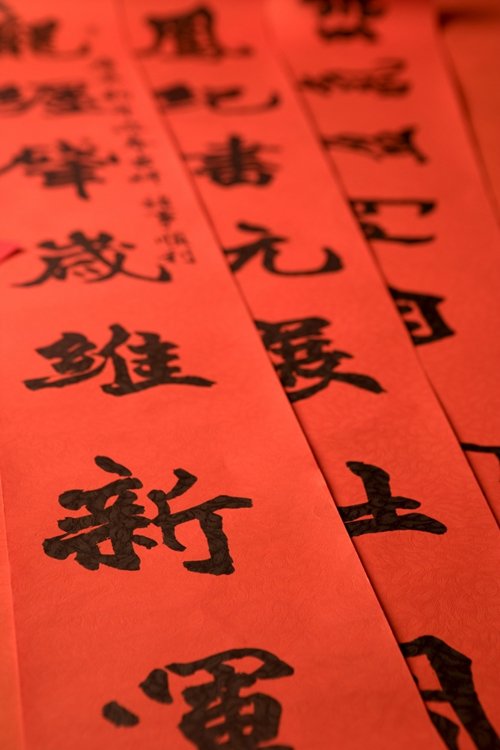 In addition to pasting couplets on both sides and above the main door, it is also common to hang 'Door Gods' or calligraphic writing of the Chinese characters for "spring", "wealth" and blessing. Some people will even invert the drawings of "Fu" since the Chinese for "inverted" is a homonym in Chinese for "arrive", thus signifying that spring, wealth or blessing has arrived.

The custom of writing couplets on peach panels started in the Tang dynasty (618-907), and became popular in the Song dynasty (960-1279). The couplets earned their official name from Zhu Yuanzhang, the emperor who began the Ming dynasty (1368-1644) and had become a form of art by the Qing dynasty (1644-1911). Nowadays, however, few people write their own couplets, with plenty of choices offered in shops.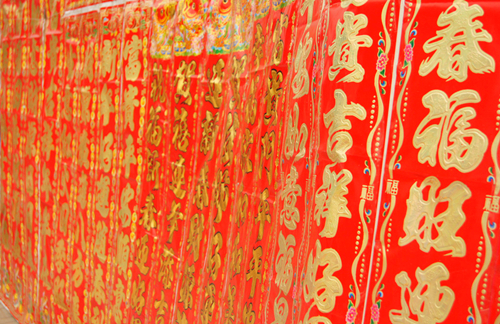 To make spring festival couplets, you need to prepare the wenfangsibao (the tools in a bookroom), to think about the words full of wishes, to write it on the paper and to paste them on the both sides of the door. First thing you need is the writing brush, red paper and black ink, and the paper needs to be into long but narrow strips in suitable shapes due to the shape of the door edge. Then think about the wishing words. Sometimes all the family members come to give ideas with concise and matching words. The third step is to write the words. This job is due to the persons whose handwriting is beautiful. He will write the matching words in two strips of paper and a short one which can conclude the meaning for the top of the door. Then comes to the last step -- paste the couplets. Brush some glue on the back of the paper, then paste them besides the door, one on the left, one on the right and one on the top.