The Miao ethnic minority has a larger population than most of the minority groups in China. After immigration in a long history, today they live mainly in south China provinces. They are divided into several branches, such as Black Hmong, White Hmong, Striped Hmong, etc.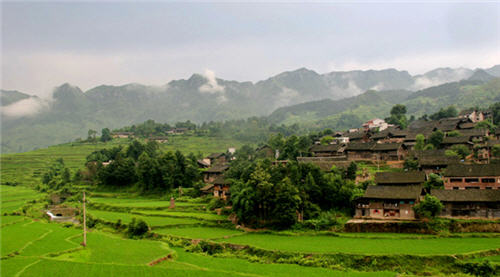 They believe that everything in nature has a spirit, which in combination are mighty enough to control their lives. Every time there are disasters, they will invite a wizard to perform ceremonies designed to drive out the devil ghost. They worship their ancestors so much that memorial ceremonies are very grand.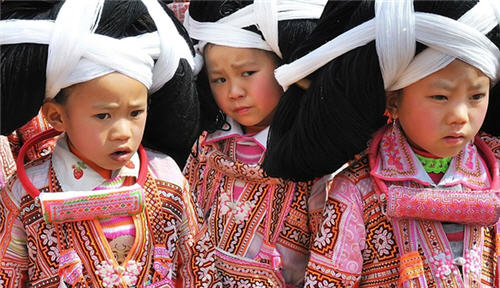 Clothes are diverse across regions. Men wear short coats and trousers, while women decorate themselves with very dainty and dazzling skirts and jewels. On their skirts, there are many patterns taking themes from life such as flowers, birds, etc. One of the most attractive, pleated skirts has as many as forty layers. The Miao people are very skilled at handicrafts, such as embroidering, weaving, paper-cutting, batik, and jewelry casting. The Miao embroidery and silver jewelry are delicate and beautiful. From hats, collars, and cuffs to skirts and baby carriers, the patterns on their clothes are extremely colorful, complicated but with clean lines. Girls of around seven will learn embroidering from mothers and sisters, and when they become teenagers, they are quite deft.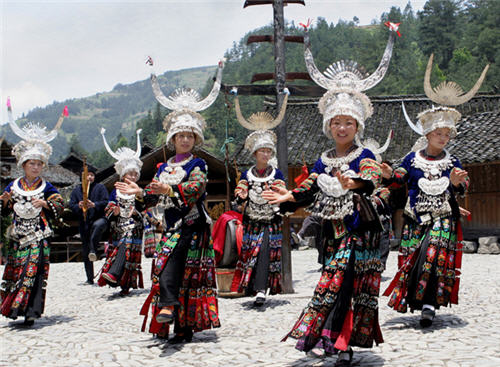 Divided by regions, they celebrate their festivals at different times, but they all have many, like the Dragon Boat Festival, the Huashan Festival, the Pure Brightness and the New Rice Tasting Festival. Among these, the Miao Spring Festival is the most important one that is held during the lunar ninth to the eleventh month. The New Rice Tasting Festival is worth mentioning. To express their gratitude for the harvest, they will stream the newly ripe rice, brew wine with new rice, cook dishes with newly-picked vegetables and freshly caught fish.