Lacquer engraving is a traditional lacquer engraving technology widely applied on the lacquer ware of the Ming and Qing Dynasties. The method is to coat the roughcast with dozens or even hundreds of layers of lacquer and then engrave on the lacquer ware. The roughcasts are mainly of wood, coated with lacquers of red, yellow, green, brown and other colors, and the engraved patterns are often landscapes, human figures, flowers, birds and animals. Works of lacquer engraving are characterized by thin roughcast, flamboyant pattern, firmness and durability.
Engraving on red lacquer is called red carving, engraving patterns on alternate red and black coats is called rhinoceros carving, and engraving on colorful coats is called color carving. In addition, there are also yellow carving, green carving, black carving and so on. The most common lacquer ware belongs to red carving.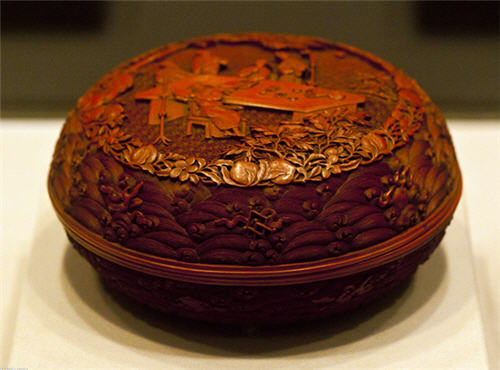 The techniques of lacquer engraving began in the Tang Dynasty (618-907) and prevailed in the Ming (1368-1644) and Qing (1644-1911) Dynasties. The greatest achievement in the Yuan Dynasty (1271-1368) lacquer ware was lacquer engraving, which was characterized by thick layers of lacquer, plump and mellow flower patterns. The overall impression of the works is simplicity and harmonious integrity, yet the details are extremely delicate and meticulous, emitting a special intriguing sense of reality. The works of lacquer engraving in the Ming Dynasty are featuring sublime and natural modeling, vivid and vigorous engraving. The lacquer engraving in the Qing Dynasty exhibits features of preciseness and minute details, and extremely delicate rendering. As a result, the Qing lacquer engraving works emit a sense of supreme elegance.