The majority of the ethnic Miao people live in Guizhou province, where their ancient lore called the Jia (or Jaxlil in the Miao language) has been passed down through generations.
Jia is an ancient oral tradition of the Miao ethnic group, the story of the Miao - their myths about the beginning of the world, their history, laws and customs. Like the Bible for Christians, the Jia contains all the values and beliefs of Miao. It is like a poem with five characters and five pitches within one line, but its content and rhetoric is different from poems. Jia is often regarded as an encyclopedia of the Miao and its content covers the Miao's history, social structure, literature, customs, religion and even their ancient technology.
But not many people knew the Miao's Jia. Most of them thought it was the same as ancient folk songs. However, the Jia is different from their folk songs because they have distinct content, and, furthermore, the Jia serves religious functions for the Miao ethnic group. It's also used as law to settle quarrels and conflicts.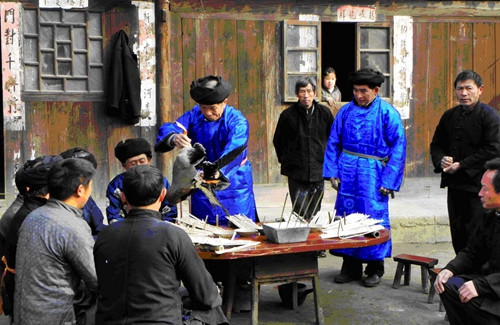 For generations, the Jia has been passed down through oral histories and storytelling, and like most oral traditions around the world, the Jia is in grave danger of dying out.
In the 1950s, there were around a dozen older villagers who could hum the Jia in Dan-zhai County. But now there is only one man left, and moreover, he has no successors. Thanks to some Jia Culture lovers' persisting on protecting the Jia and the culture of the Miao ethnic group, hundreds of hours of Jia which singing by elders from the Miao ethnic group has been recorded and tens of thousands of lines to preserve the endangered oral tradition has been documented over the past 30 years. The protection of the Jia was incorporated into the national intangible cultural heritage of China in 2008