The Hui ethnic group is the most widely distributed ethnic group of China with a total population of 9.8 million. Most of the Hui people live the Ningxia Hui Autonomous Region in northwestern China. There are lots of concentrated Hui communities in Gansu, Xinjiang, Qinghai, Hebei, Henan, Yunnan, and Shandong Provinces. Hui people speak Chinese, and some of them could also speak Arabic and Farsi.
The ancestors of Hui were Mongols who migrated to east China after three expeditions during the 13th century. Through hundreds' years of communications and intermarriages, the Hui gradually acquired the customs and living habits of the Han, the Mongols, and the Uygur, and finally become the Hui Nationality. Most of the Hui people are devout Muslims, their history and culture is deeply rooted from Islamic religion. Mosque has becomes a symbol of Hui communities or Hui habitat.
Hui people prefer eating wheaten-based food to rice-based food. What's more important, eating pork, meat of dogs, horses, donkeys, mules is forbidden according to the religious doctrine of Islam. Besides, the Hui people could not eat meat of animals which are killed by people from other nationalities. They believe only animals killed by the special cook or the imam from the mosque can be eaten. Hui people are not allowed to drink alcohol either. Most of the Hui people do not smoke, especially when visiting other's home.
Hui people usually wear a white hat or cover their head with a piece of cloth. Depending on which branch of Islam they belong to, the hats are of different shapes including pentagonal, hexangular or octagonal. Women usually wear white, round-edged hats, and normally young girls like to wear green veils with golden edges or elegant embroidered patterns of flowers and grass.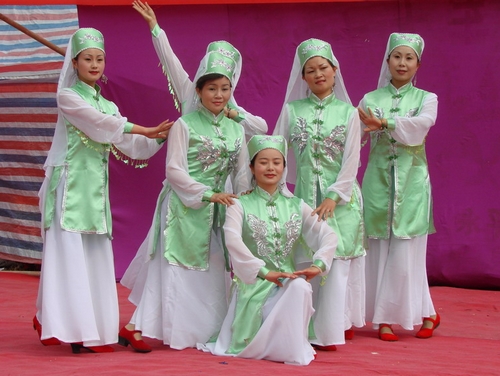 Eid al-Adhs is one of the most important festivals of Hui. According to their custom, eating is prohibited during the ninth month of Islam Calendar, thus Eid al-Adhs which falls on the first day of October is just the day marked the end of the Ramadan. On that day, Huis firstly kill livestock and divided the meat into three parts. The first part is offered to the family members, the second part is for relatives, friends, and neighbors, and the last part will be served to the poor in the community.