Huangmei Opera, also called Huangmei Tune or Caicha Opera, is one of the most noted traditional operas in China among Peking Opera, Shaoxing Opera, Ping Opera and Henan Opera.
Huangmei Opera was originated in Huangmei County in Hubei province during the 18th century when Chinese local operas were flourishing. After Huangmei Opera was introduced to Anhui province, it became popular in Anqing County and other neighboring provinces. Nowadays, this opera has grown into a professional performance art in both rural and urban areas, and has become a recreational activity for millions of people.
Origin and Development of Huangmei Opera
The Huangmei Opera was derived from the Caicha Tune, meaning tea-picking songs, a type of song that people sang while picking tea. It is a combination of local folk songs, dances, and some widespread ancient operas. As Anhui and Hubei are situated next to each other, Huangmei Opera of Hubei Province was brought to Anhui.
Once performed frequently in villages and towns by small groups of local people, Huangmei Opera grew increasingly popular. It developed from folk tunes into short dramas and even completes theatrical works, which can be performed on stage and as TV series.
With the support from the government, Huangmei Opera has blossomed since 1949. It has gradually developed from Chinese traditional folk tales to a more diversified opera genre incorporating other opera styles. Nowadays, the lively short operas, called everyday shows, are still performed frequently. Even "big plays" are almost always about folk life. The performers infuse simple humor into all of the 72 short plays and 36 full-length dramas about the privileged life for a down-to-earth element.
Huangmei Opera has spread its fame both at home and abroad with its sweet melodies, lyrics, graceful sounds, movements, beautiful costumes and sets. Huangmei Opera's fans can be found not only in Chinese mainland but also in Hong Kong, Macao, Taiwan, Malaysia, Japan, and even Europe.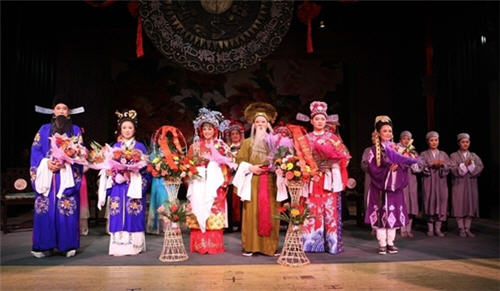 Characteristics of Huangmei Opera
The costumes of Huangmei Opera contain a distinctive Chinese ancient taste. During the performing process of Huangmei Opera, artists always wear ancient-style garments. Since the contents of the opera are often varied, costumes and sets change according to the opera's social environment and customs. In some modern Huangmei Operas, artists simply wear ordinary clothes when performing the modern plays.
Huangmei Opera music features folk songs that are graceful, sweet-sounding, light, and lyrical. Three types of music are used: coloratura, character songs, and basic tunes. The 104 coloratura tunes are taken from folk songs, tea-picking songs, and other types of songs. Huangmei Opera is easy to understand and learn due to its lyrical tunes, simple words, and literary tradition. Like other Chinese local operas, Huangmei Opera also adopts the local dialect. Since the language is a mixture of northern and southern styles, it is therefore easy to imitate and is pleasant to native ears. Its local flavor and folk style are most vividly revealed in its original and lively dialogue, which is both spoken and sung.
Passion, simplicity and purity is what makes Huangmei Opera an enduring drama appreciated by all.