The south lower reaches of Yangtze River is centered from Nanjing to Suzhou, including some regions of Anhui, Jiangxi and Zhejiang provinces. Located in the Taihu Basin close to the East China Sea, the region is featured by mild weather and developed agriculture for its abundance in water resources. The folk house here has been built by the ingenious local people on open spaces which are surrounded by flowing water. The vivid folk architectures are fitted with white walls and black tiles, decorated by little bridges over brimming water.
The history of folk house in the south of the lower reaches of the Yangtze River can be traced back to the Hemudu culture approximately 7000 years ago. Under the effect of historical vicissitude, this region gradually became the most prosperous area across China. It is in this region that increasing number of houses were built by high ranking officials, distinguished persons, landowners, rich merchants and refined scholars. A large quantity of exquisite and peculiar folk houses is still retained by now.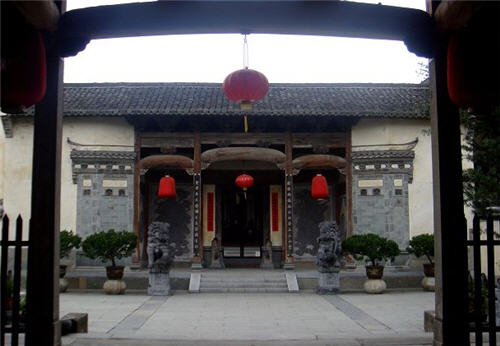 The folk house in the south of the lower reaches of Yangtze River is of traditional timber frame. The overall arrangement is similar to that of Siheyuan in North China. Due to the large population and precious land, space saving is a crucial factor in house building in this region. For this reason, courtyards usually cover a small area. The house gate is usually located on the axis line, with the head-on master room as the hall, and the rear courtyard built into two-storey building. The small-sized yard surrounded by rooms is known as parvis, which is exclusively used for lighting and drainage. Such residential arrangement is also called Sishui Guitang for the reason that the design allows rainwater to flow from internal side slope of the roof to the parvis from four directions. Timber frames in the external parts of the house are painted in brown, black, blackish green and other dark colors, while the external wall is painted in white for the sake of reflecting sunlight. The houses here are featured by horse-head walls higher than the roofs. The walls are provided with fireproofing and decorating functions, while the comparatively steep roofs can facilitate timely drainage.
The primitive, quiet, pure and elegant region has been praised by numerous literati of all ages. The southern region in China is abundant in bright red blossoms and green willows all the year round, and is picturesque under the effect of plentiful colors and pastoral cottages. It also provides lingering charms arisen from gentle voice and the dulcet sound of traditional stringed and woodwind instruments.