When you travel to Canton or Hong Kong, don't miss a chance to taste authentic Dim Sum in a local restaurant. There's nothing too difficult about ordering and dining, here are a few tips to clear up any confusion.
One aspect unique to dim sum is its method of serving. Here, dishes are pushed around the restaurant in steam-heated carts, with servers offering the dishes to customers.
Share
As with most small plates dining, the more people you have and the more dishes you order, the better the experience will be for everyone. Bring people, and be prepared to share.
Start with tea
You should be given a pot of tea as soon as you first sit down. Most dim sum restaurants will have a few varieties of tea on hand and will probably get you a different type if you prefer it over their house tea. Check the tea before you pour to make sure it's steeped enough. When you empty the pot, turn the lid upside down or leave it ajar to let the waiter know you want a refill. To be extra polite, make sure to fill up other people's glasses before your own, and tap the table to thank someone for filling yours.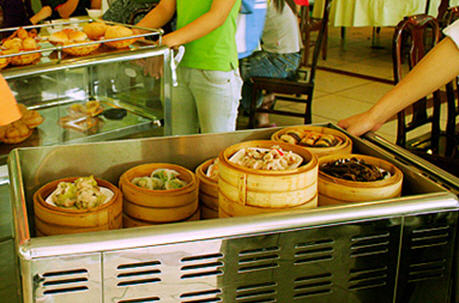 Ordering
This is pretty simple: just let the food come to you. The server will generally offer you each one of the two or three dishes their cart is carrying. Just nod or say "yes" if you're in. Good rule of thumb: if you're not sure what it is, try it. Don't see your favorite dish in the dining room­ Most large dim sum restaurants can bring you a fresh one straight from the kitchen—just ask for it. Make sure to keep your card out so the cart pusher can stamp it. If there's a buffet-style line at the restaurant, bring your card with you when you go there.
Cart chasing
You see the steamed rice roll cart all the way on the other side of the dining room and you're afraid they're going to run out before they make their way over to you. What do you do­ It's perfectly acceptable to get out of your seat and chase down the specific cart you're looking for. Just don't swoop in and steal the last one.
Eating utensils
Chopsticks are the norm, but don't feel bad about asking for a fork if you need one. The basic rules of chopsticks apply: don't spear your food with them, and don't leave them sticking straight up in a bowl of rice when you're not using them. Instead, lay them horizontally on the edge of the plate.