As an artistic form of decorating food, food sculpts mainly use cutting, chopping, digging and hollowing to create beautiful designs containing high aesthetic value as exquisite crafts. Food sculpts contain widespread content, involving painting, sculpture, modeling and decorating. The food sculpts always show the skill and artistry of the cook.
Chinese food sculpt is an extensive and profound art for its long history. It is said food sculpts were evolved out of offerings. And according to the historic record, food sculpts became burgeoning and fashionable in the Song Dynasty (960AD-1279AD).
Development of Food Sculpt
The theme of early food sculpt was mainly about flowers, which then enlarged to the area of portraits, fish, birds, worms and flowers. The famous Yangzhou melon sculpt was the perfect example of the creativity and exquisite techniques of food sculpt.
Today, more and more food sculpt artists are gaining recognition. They decorate the dishes and banquets while changing people's cognition of food sculpts. At some pricey banquets, food sculpts show not only the exquisite craftsmanship of Chinese cooking, but also the extensive and profound culture of China that is highly commended.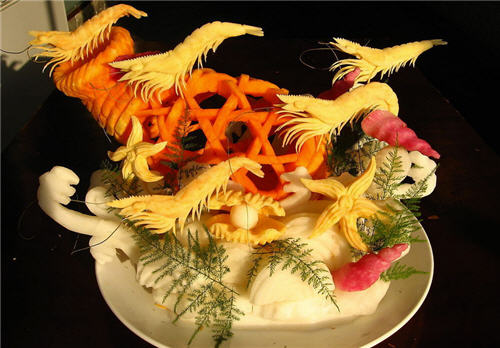 Sculpture Techniques
Rounded sculpture
Rounded sculpture is also known as solid sculpture, where materials are sculpted into a three-dimensional sculpture. Only experienced cooks can accomplish such work because of its difficulty.
Embossing
Sculpting on the surface and showing a picture is called embossing. There are two kind of embossing. One is intaglio, which means the pattern is lower than the surface of materials. The other is rilievi, which means the pattern is higher than the surface of materials.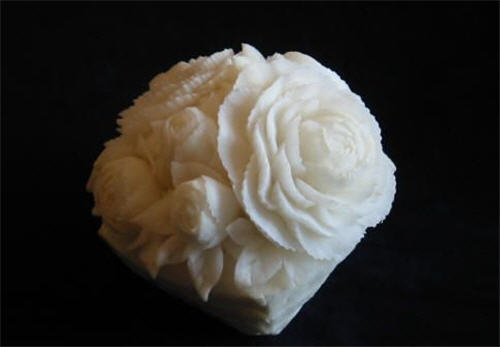 Hollowing
Hollowing is based on embossing but it involves cutting through the spare parts, helping to better pronounce the theme.
Cyclic sculpture
Cyclic sculpture is a way of sculpting that synthesizes a rounded sculpture by embossing and hollowing. It is the most difficult type of food sculpture. The finished articles can vary from vessels to hold soup or decorative lighting like a watermelon lantern.
Incision with mould
Cooks use moulds of special shapes or outlines to create small food sculpts, which are always used as decoration on the flange of dishes.