Chinese Bonsai (called Penzai or Penjing in Chinese), inspired by nature, was originated in China around 1300 years ago. It is an art of designing miniature trees or flowers in a shallow pot or container. Chinese Bonsai can be classified into several groups according to their sizes, places of origin, and the different art styles. In the old time, bonsai was practiced only by the elites as a symbol of social statues.
Around 1100 AD when some Buddhist monks brought the Chinese Bonsai to Japan, the art was adopted by the Japanese. It was not until the early 1900's that Chinese Bonsai spread to the rest of the world.
Chinese Bonsai encourages plant to flow in a natural way. The original function of Bonsai is not just as a kind of decoration or to re-create nature in a pot, but to actually capture the spirit of Feng Shui. Old Chinese think that the universe has two sides of cosmic energy, which is called the Yin and the Yang, and plants are divided into the Yin or the Yang. According to their need, owner of a house chooses bonsai plants to make up the balance of the house.
Bonsai producing areas throughout China have their own genres of designing bonsai. Famous bonsai producers in China include the Shanghai Botanic Gardens with over 150 Bonsai gardens, Suzhou, which has the Humble Administrators Garden (listed as a World Heritage Site), and Hangzhou Botanic Garden which is famous for its two-and-a-half acre Bonsai garden where growing 3,500 Bonsai plants.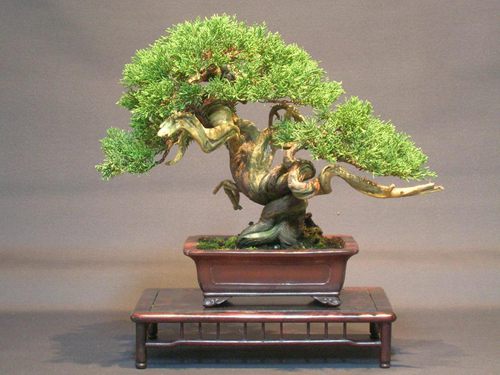 How to choose a good bonsai tree is not that simple. For example, the shape and movement of the Bonsai's trunk could tell the species. The branches on the lower portion of the tree should be thick and the branches on the upper portion of the tree should be thin. The leaves of the tree can indicate a lot about the health of the tree.
According to traditional custom, one Bonsai can be displayed with some other objects like painting or a scroll that is hung at a higher viewpoint, precious ceramics, and rocks or stones.