The Bouyei Nationality (also called Buyi Nationality) is one of the 56 ethnic groups officially recognized by the People's Republic of China. Bouyei people live mainly in Anshun, Guizhou Province. The total population is 2.9 million in 2000. Bouyei Nationality has lived in the southwestern area since the Stone Age. It is one of the oldest ethnic groups in China.
Bouyei people have a long history of growing rice. Since most of their habitats are nearby valleys and rivers, the rice harvest always benefits from fertile land and mild climate. Due to the humid weather and special natural environment, Bouyei people love to eat sour and spicy food to keep healthy. Pickles, sour vegetables, glutinous rice, brawn, sausage and blood curd are all their favorites. The Bouyei tea culture is quite different from what it is like of Han Nationality. They drink tea made of leaves planted in their own habitats. Honeysuckle and other plants are added to the water to get special flavor.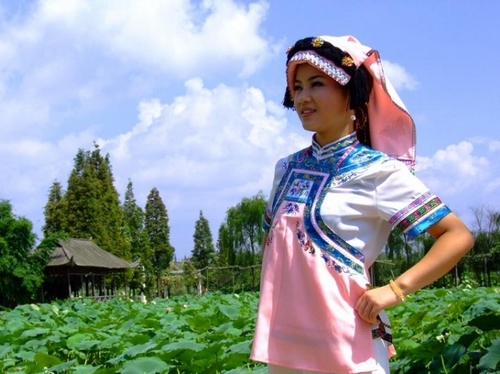 Traditional Bouyei young couples get married without living together at first. The two families hold a grand wedding ceremony. After wedding the bride and the groom still live in their own families and continue to live the same life like before. The new couple begins real marriage life until one day the bride's mother-in-law forces her to live with her husband. After a Bouyei wife gets pregnant, she will wear a kind of Bouyei traditional headwear named "Jiake", which is a bamboo shell-framed headdress overlaid with batik cloth.
The Bouyei enjoys a great fame for their crafts work. There is a kind of famous traditional batik loved by tourists both from domestic China and other countries. Pear flowers, fleuret, waves, eddy, and chains are the most frequently used patterns. Wood carving is another famous Bouyei handwork, especially masks with vivid characters produced in Anshun County.
Versatile is an exactly description of Bouyei people. They are born to be musicians that could play traditional instruments including Atabal, Gong, and Suona Horn. Except for playing musical instrument, Bouyei people are also good singer and dancer who love life, nature, and animals. Bouyei people perform their own operas, in praising heroes who were loyal and patriotic in the history.