Chinese shadow puppets
Chinese shadow puppets are very popular with collectors and make for good home decorations. A shadow puppet play is a folk opera form of cutting animal skin or hard paper into figures and performing them in front of an illuminated backdrop to create the illusion of moving images. Accompanied by music, performers manipulate the figures and sing.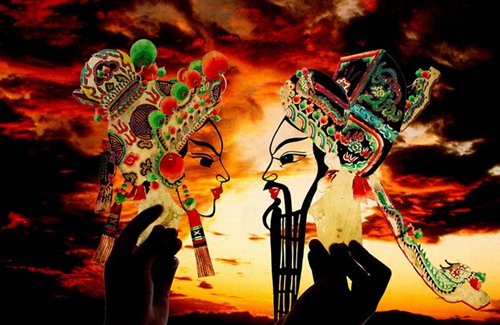 Calligraphy practice copybooks
In China, calligraphy occupies a distinguished position in traditional art. Not only as a means of communication, but also as a way of expressing one's inner world in an aesthetic sense.
The calligraphy practice copybook can be a wise way for training a practitioner to learn calligraphy. It can display a Chinese character in the presence of clear water, and can be used repeatedly.
Chinese tea
Originated in China as a medicinal drink, tea has become a national drink in China and serves as an important part of Chinese culture.
As the world's second-most popular beverage, after water, tea has around 1,500 varieties in China. They are divided into seven main categories: green tea, black tea, oolong tea, pu'er tea, white tea, yellow tea and scented teas.
Chinese combs
In ancient China, hair was called "threadlike things of troubles." Thus Buddhist monks shave their heads. Combs arrange hair, so people regard them as a way to clear their troubled minds. Combs also mean "smooth and prosper," therefore combs represent people's good wishes.
Mainly made from bamboo, wood and animal bones, with the development of society, the combs are decorated in various ways, and feature colorful patterns and pictures of historical figures, landscapes, birds, animals, opera characters and so forth.
Oil-paper umbrellas
Oil-paper umbrellas have a long history in China. They are made from bamboo and oil-coated paper which is colored and painted with beautiful patterns and also for fashion accessories. Today, Chinese people use them for home decoration.
Peking Opera masks
Peking Opera is a Chinese national treasure and the makeup, which actors wear, is a necessary element of it. In the Qing Dynasty (1644-1911), a man surnamed Gui, who was a big fan of Peking Opera and from a noble family, came up with the idea of combining clay making and Peking Opera masks. Since then, clay Peking Opera masks have become a popular gift among families and friends.
Peking Opera masks have different roles and are decorated to represent distinguishing features and personalities.
Chinese knots
Appearing in ancient times, Chinese knot is a traditional handicraft art. Its endless variations and different materials such as cotton, flax, silk, leather, gold and silver, to name a few, have widened the applications of the Chinese knot.
Snuff bottles
Snuff tobacco was introduced into China during the Ming and Qing dynasties, and the snuff bottle represents a combination of Chinese and foreign cultures. Snuff bottles are made out of many different materials including porcelain, jade, ivory, wood, tortoiseshell, metal, ceramic, and glass.
It was not only a container for tobacco but also a sort of art collection for wealthy businessmen and influential officials. Traditional Chinese art methods, such as painting, calligraphy and carving were applied to the making of the bottles.
Chinese paper cuts
In China, paper cuts are used as ornaments on gates, windows, walls, columns, mirrors, lamps and lanterns. They are widely used at important festivals. In 2009, The Chinese paper cut was inscribed on the Representative List of the Intangible Cultural Heritage of Humanity by UNESCO.
Panda toys
Black and white, pudgy and cute, China's national treasure, the giant panda, is popular around the world.