If you travel in China and have plenty of time to experience the differences between each part of this huge country, don't you ever forget to put Wuhan into your destination list, this central China city might bring you the most special joy! For me, except for Wuhan's famous tourist attractions, I also enjoy a tremendous variety of Chinese cuisine.
East Lake
East Lake is almost the symbol of Wuhan. The lake is the largest one within a city throughout China. Travelers going there can really have a pleasant time to relax. I took a boat from docks and go for a row on the lake! Wuhan Botanical Garden is located on a peninsula in the East Lake. There are several gardens except for the botanic garden. For example aquatic plants, Chinese gooseberry trees, pine, bamboo and so on. In the eastern part of the lake area, quite a few places across the lake offer the chance for visitors to go fishing and enjoy the beaches.
Yellow Crane Tower
Perhaps every Chinese knows Yellow Crane Tower due to a really famous Chinese poem written by a famous ancient poet named Cui Hao. The roof of the Yellow Crane Tower is covered by 100,000 yellow glazed tiles. Travelers can enjoy stunning views in the tower. The first floor of the tower displays pictures and stories about legend. The third floor is about poems ever related to the Yellow Crane Tower. On the fifth floor, travelers could enjoy an overlook view of Yangtze River, the Yangtze River Bridge and the surrounding architectures of the City.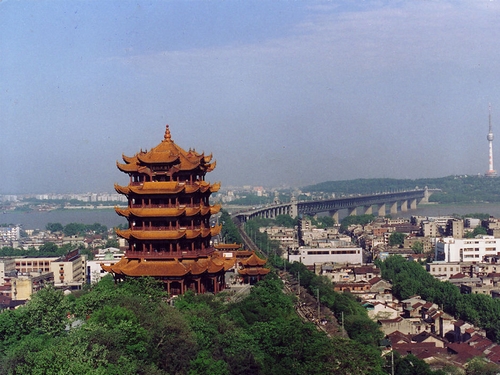 Wuhan University and the Cherry Blossom Festival
Established at the end of the 19th century, Wuhan University has a long history. In the campus of Wuhan University, I almost forgot it is a university but not a park. The campus is covered by tall trees and neat grass. Just strolling on the campus, the architectures definitely amazed me and brought time back to old time. I didn't go there in spring, but all of my friends told I have to go back again for the great scene of cherry blossom in about mid-April, when everywhere of the campus is covered in the sea of cherry blossom.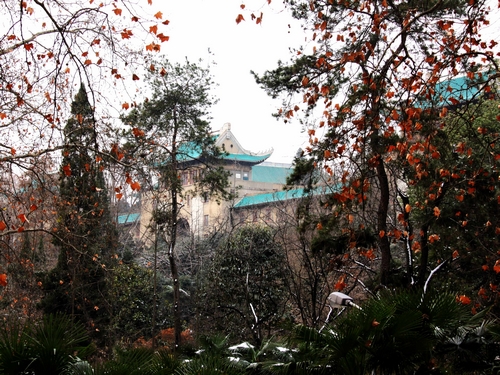 Food
Food in the city is a perfect mix of most China regional flavors. Although I have forgotten the names of some dishes, I still remember the Wuchang Fish there is famous worldwide. Wuhan is a perfect place to taste hotpot and spicy dishes. But after all, one eyewitness is always better than hundred hearsays.