Xi'an, the capital city of Shaanxi Province is legendary as "the northern capital of table delicacies" and its food culture is rich in the northwest flavor.
Mutton paomo
It is not exaggerated to say that if you don't taste Mutton Paomo, you don't come to Xi'an. Mutton Paomo is made of a piece of wheat flour flat bread and mutton soup. The mutton is usually cooked with scallion, ginger, wild pepper, aniseed, fennel, cinnamon and some of the other ingredients. To eat mutton paomo like local, you should tear the bread to pieces and soak the bread in the mutton soup. Then the mixture is eaten along with mutton soup, pickled garlic cloves, cabbages, cooking wine, vermicelli, and salt etc.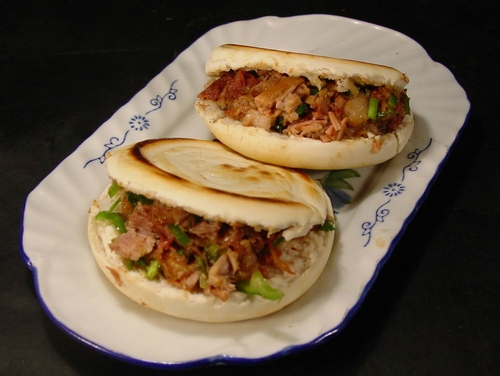 Roujiamo
Roujiamo is actually the Xi'an version hamburger made of mincemeat wrapped by griddle steamed bread. Roujiamo is very tasty and surprisingly light. Before the mincemeat is made, the meat(with bones) must be boiled with wine, salt, rock candies, fresh gingers, shallot stems, and then a voile bag with more than twenty flavorings such as teasel nuts, cardamom seeds, cloves, cinnamons, aniseeds, prickly ashes etc is put into the boiler to cook with the meat for about 3 or 4 hours. Then the meat is scooped up from the boiler.
Biangbiang noodles
Biangbiang noodle is another must-try of Xi'an. Biangbiang noodles are thick, wide and long. Each belt-like strand is three-finger wide, spiraling down into a big bowl. The interesting thing is even for Chinese it is one of the strangest foods, and all you need to do to know why is to take a look at its name in Chinese characters. Most Chinese would not even know how to write the 57-stroke character for "biang" which has so many turns that it actually looks like a hieroglyphic on paper. The strange character was created a long time ago, it has been passed down and nobody use it anymore, let alone on the keyboards of a computer.
Qishan noodles
Qishan Noodles is originated in Qishan County, and hence it is named after the county name. For those who want some meat in their bowls, the Qishan noodles with ground pork are a house favorite. The broth is tangy, but hit the back of our palate with its salty-spicy aftertaste. Peppered with vegetables, meat and egg, this is a hearty, flavorful choice.
There are also plenty of other tasty snacks in Xi'an, such as sour cabbage and beef fried rice, beef noodles, fried persimmon cake (Shizibing), fried dumpling (Guotie), stir-fried bean jelly (Chaoliangfen). All in all, you would not know how delicious Xi'an featured snacks are unless you taste them.